Update #2: McMurdo logistics to the field
Arrival in McMurdo involves your little party meshing with the gears of a huge logistical operation. Meetings, briefings, and refresher courses are required with almost all of the myriad departments that keep this place (and the science) running. After a relaxing Sunday (everything shuts down for Sunday, except the galley which serves a special brunch and dinner), Monday began with a Crary Lab safety briefing, a field environmental briefing (no spills of any kind on the continent, including dishwater and urine), and our program briefing, where we met everyone else we needed to arrange more meetings with. In the afternoon we scheduled meetings, then I spent several hours working on my web course using the dial-up-speed network down here (we're told the satellite network connection for the whole base is equivalent to a DSL hook-up in a single house back home). Finally, after impatiently waiting for web pages to load on WebCT, Steve and I decided to take a hike and check out our GPS equipment before we hit the field. Since we were still lacking the outdoor recreation briefing (only offered Saturday before we arrived and Tuesday evening), our choices were limited, but a stroll out to Hut Point was an option. The annoyance and impatience drained away as we approached the point: the original hut built by the first Scott expedition guards the end of the point, and is always impressive to see. And off the point, in a small patch of open water a couple dozen Adélie non-breeders were cavorting in the water (no youngsters to care for, so lots of time to play), and a leopard seal was hauled-out and snoozing on the sea ice. In the background the icebreaker Oden was clearing the ship channel, and the clouds had lifted across McMurdo Sound so the Trans Antarctic Range stood out in sharp relief, with glaciers spilling into the Dry Valleys but not quite reaching the coastline. Now I remembered why I came back, and the hassles of dealing with a bureaucracy paled a bit in light of where we are.


Panorama from Scott's Discovery Hut (far left), McMurdo (left to center), Observation Hill (center) and icebreaker Oden (right).
Next day, Eva and Liu headed out for their two-day survival training in Happy Camper School (an intensive field course culminating in spending a night out on the Ross Ice Shelf), and we reported for our survival refresher course (only a morning, and indoors!). Once again I was impressed with the professionalism of the FSTP (Field Safety Training Program) instructor. They always do a great job conveying the key details of polar survival, with a wry humor and attention to researchers needs. Our instructor Paul is part of an elite group of only eight people that are the best trained rescuers for thousands of miles around, and may be called out at a moment's notice.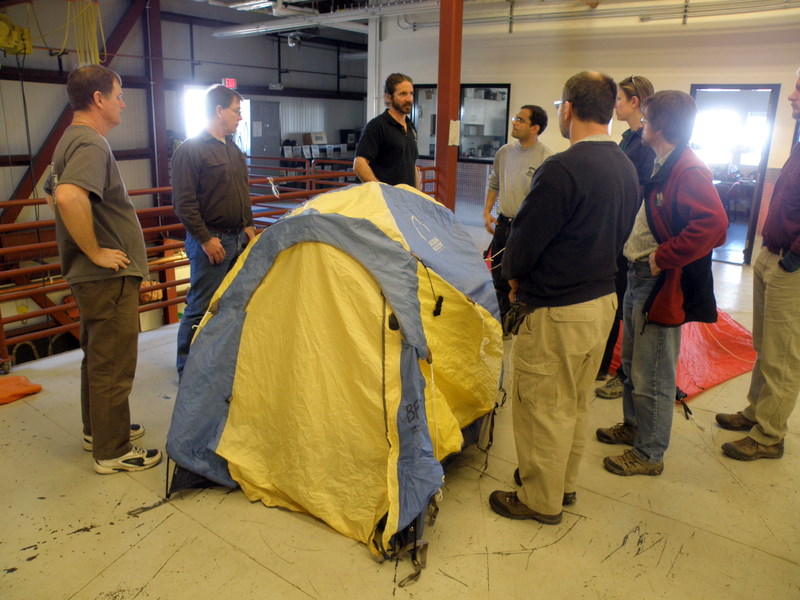 But it also turned out that our refresher group has some impressive credentials too- between only eight of us in the class we had experienced 41 seasons in Antarctica! Steve boosted the total with his 12 seasons (what a stud!). We reviewed the emergency response system, a bit of medicine on cold injuries and hypothermia, then spent the rest of the class reviewing survival bags and their contents (these two person packages contain everything you would need to take care of yourselves for three days: tents, sleeping bags, bivy sacks, stoves, fuel, food, and most importantly- a Harlequin romance novel!). We reviewed lighting and repairing the MSR Whisperlite stoves (white gas stoves have fallen out of vogue for most backpacking use, but pack a lot more heat per gram of fuel in cold climates), and setting up the two styles of tent used by the program (Sierra Design Tiros and Hilleberg Nammatj). A final review on radios and helicopter procedures rounded out the refresher, and we had one more task checked off our list.

One more meeting in the afternoon with MacOps (communication center for the continent) to establish our call sign and check-in procedure, then on to electronics to pick up our VHF and HF radios, and we were done for the day. Finally we had a chance to get outside again and stretch our legs, so we hiked up the Hut Point Ridge Trail for some great views of the Transantarctics and Mt. Erebus. Along this trail is monument and shrine dedicated to the memory of a Navy Seebee named Richard Williams. He was down here in 1956 during the intial construction of McMurdo base, and was tasked with towing equipment in from the ship across 30 miles of sea ice with a bulldozer. But a deadly miscalculation was made about the thickness and strength of the ice, and the bulldozer broke through to plunge to the bottom of the sound. In his memory, the airfield was named Williams (Willie) Field after him, and this shrine was erected.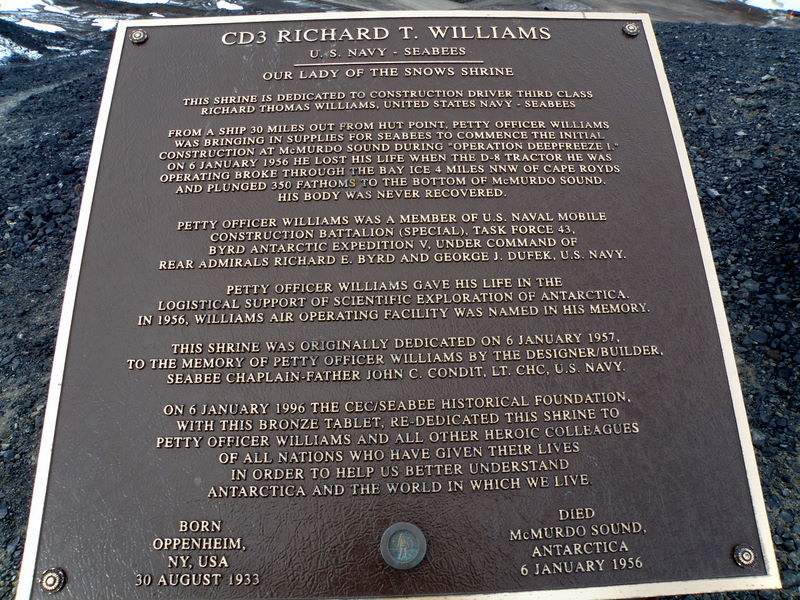 After dinner, we finally had our recreation briefing (a fun movie and PowerPoint show about where and where not to go), so now we can finally go on a real hike if we have the time. One last appointment for me today (Wednesday) is to meet with Peggy in the Food Room to pull supplies for our first field camp, which looks to be at Cape Bird since Cape Crozier is currently packed with filmmakers from the BBC and penguin biologists. We plan to go out on a shake-down day-trip to Cape Royds tomorrow (a short 20-minute helo ride), to help Liu sample some lake sediments there. Then back in town for a day (Friday) to pack for the field. The New Zealand program has a luxurious hut at Cape Bird, and we may be able to share the accomodations with the Kiwi biologists. I'll write again as our plans consolidate.

Cheers! Larry