Update #3: Cape Royds
Finally, after ten days of travel, meetings, accumulating field gear, other logistical requirements, we completed a shake-down field trip to Cape Royds. It was a first-ever helicopter ride for Eva, and possibly Liu, and even though riding helos is old hat for the rest of us, it's always exciting to launch out over the frozen sound and head for your destination. Royds is two points north of Hut Point, about 25 air miles according to my GPS. Seating in the Bell 212's is tight, and only the folks at the windows get much of a view, so I caught some glimpses of the ship channel the icebreaker is working on, and some Weddell seals hauled out near ice cracks, but not much else. We landed at the lower helo pad at Royds, and strolled about 10 minutes down to the colony. We immediately met up with renowned field biologist and penguin expert David Ainley, who was at Royds this whole season to monitor the birds. He told us that all the colonies on Ross Island are behind schedule as far as the reproductive cycle of Adélies, and as I walked around I was amazed to see how tiny many of the chicks were, and a few adults were still on eggs. This late in the season it is very unlikely that chicks can grow fast enough to beat the rapidly approaching winter, so chick survival from Royds is likely to be very poor this season. David also said that the colony has been shrinking since 2001, with fewer and fewer birds returning every year. Some of the banded ones have been turning up at the more northern colonies (Capes Bird and Crozier), but where others have gone is unknown.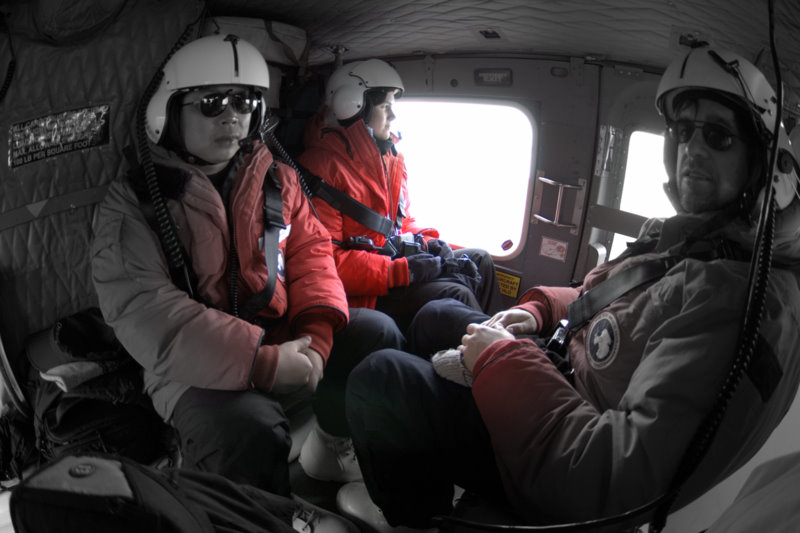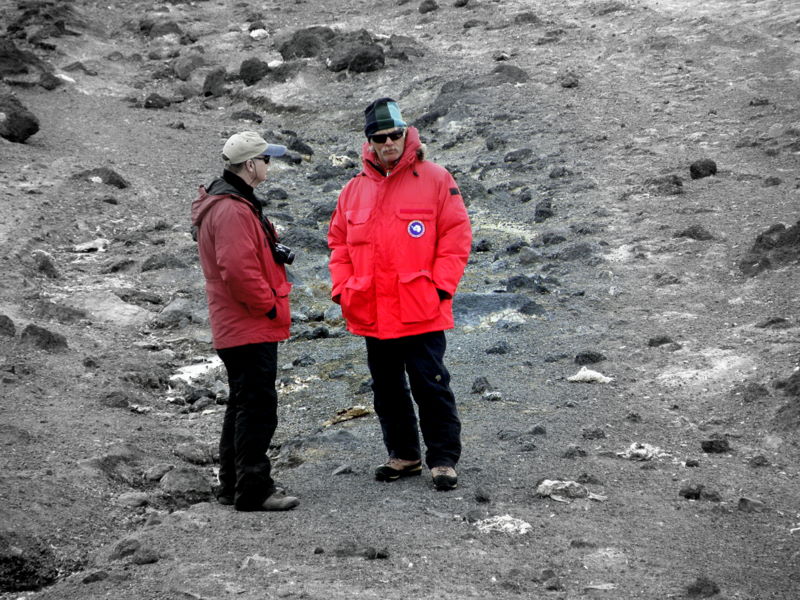 Helo ride in the Bell 212 (left), and Steve and David Ainley chat (right).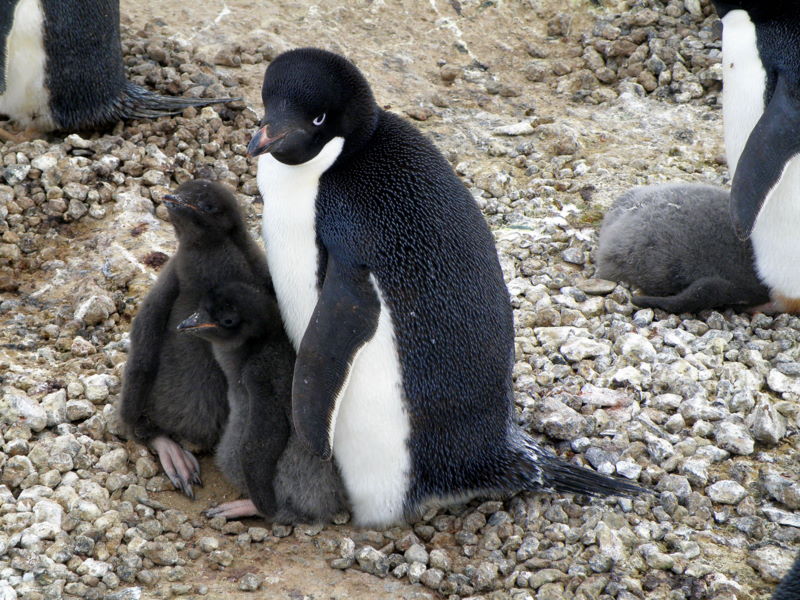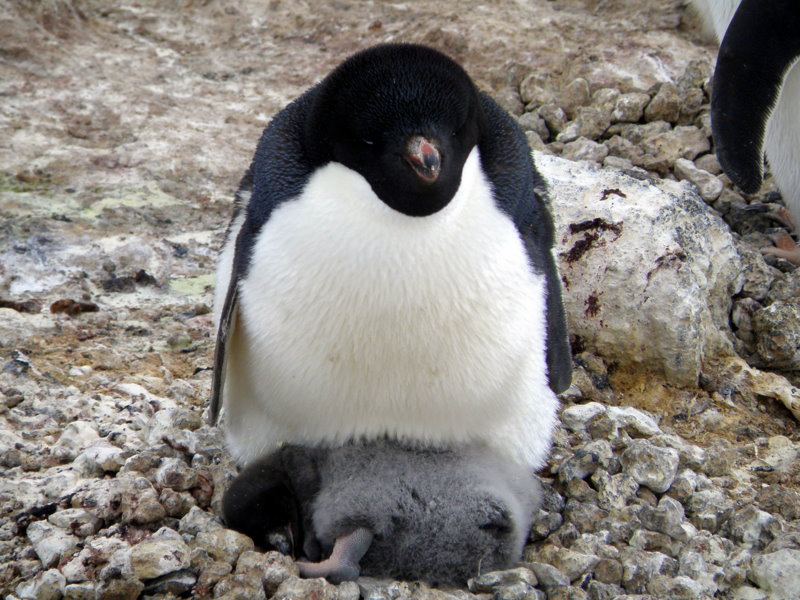 Chicks that are undersized for mid-January at the Cape Royds colony.
Adélie parent feeds its chick in the colony.
Adélies at the beach- when one goes in, they all do.
Shoreline penguin activities at Cape Royds.
Liu started assessing Pony Lake (next to the colony and named by Shackleton) for the sediments he wants to collect. He determined that the lake sediments themselves were too coarse for his approach, but nearby he found some suitable materials and set about digging small pits and sampling in 1 cm increments. Steve and I walked out through the colony to gather egg shells for Steve's isotope work, and I was again drawn into the everyday drama that constitutes Adélie life. Pairs of skuas are stationed around the colony, watching carefully for the opportunity to grab a hapless chick, and when they succeed the chick is reduced to nothing but a pair of flippers and lower limb bones in a matter of minutes. I saw one skua pair, apparently impatient that the parents were keeping good care of their chicks, approach a mother on the edge of colony and try to intimidate her to leave her chick for their feast. But she alternately snapped at one, then the other, and back to first, and when the skuas got too close several other Adélies would run to interfere, and the skuas would retreat. It was a game that goes on always and forever, so it's clear how difficult it must be to raise a chick to adulthood when predators are constantly nearby and on the alert.
Standoff between Adelie parent and skua pair over a chick.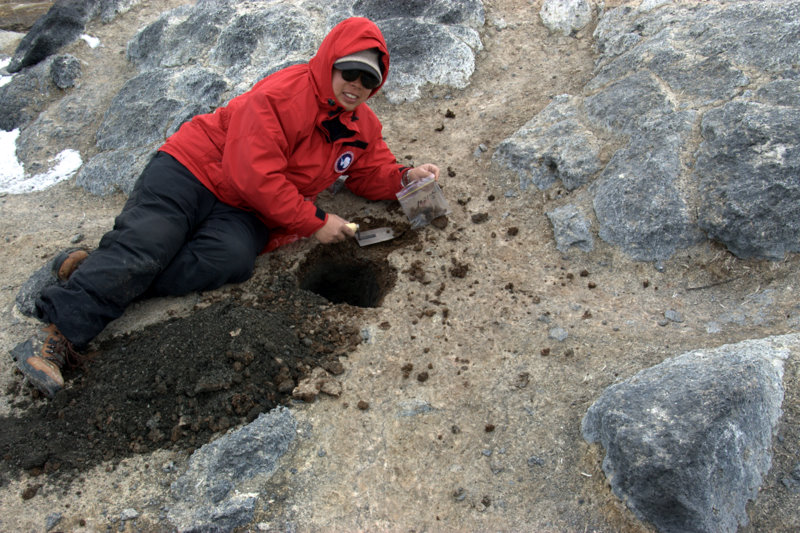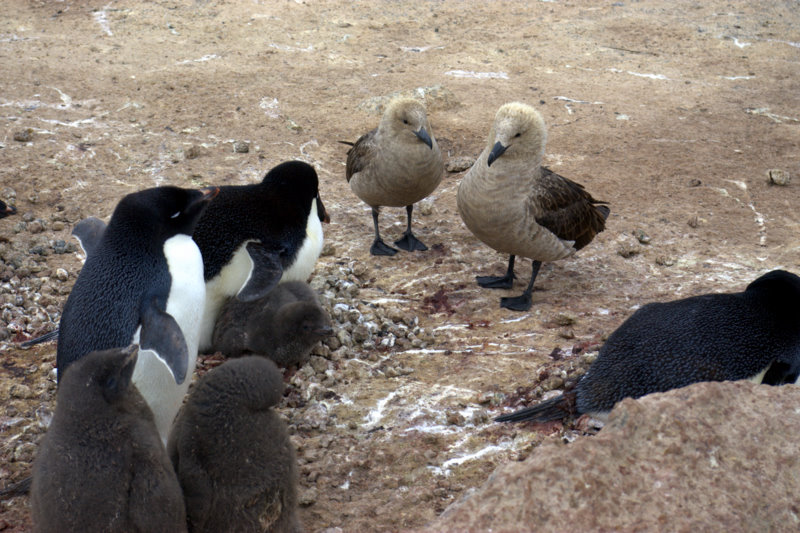 Liu digs sediments for samples near Pony Lake (left) and skua pair trying to intimidate an Adélie mom.
The weigh bridge, for measuring birds' weights while coming and going (left) and a view of the main Royds colony (right).
Steve also wanted to resurvey some of the abandoned sites we found in 2001 and 2004, so we hiked up the coastline towards a series of lakes in the volcanic badlands that make up most of Cape Royds. Historic artifacts and interesting bones and other natural items are abundant in this terrain, and I found a seal humerus in a small ravine (sea mammal skeletons are bizarre- some elements are hardly recognizable as mammal bones). And the effects of glaciations are always evident from the presence of white, fine-grained granite erratic in the midst of this jet-black volcanic landscape. As we headed north towards the sites we found in 2004, we immediately found numerous other abandoned sites we hadn't yet documented. Instead of being able to easily calculate the areas of sites we knew about, we found a whole new batch of sites that expands the size of the Royds colony at its peak. We finally ran out of time and had to return to the helo pad for pick-up.
Fine-grained granite erratic in basalt badlands (left) and seal humerus (right).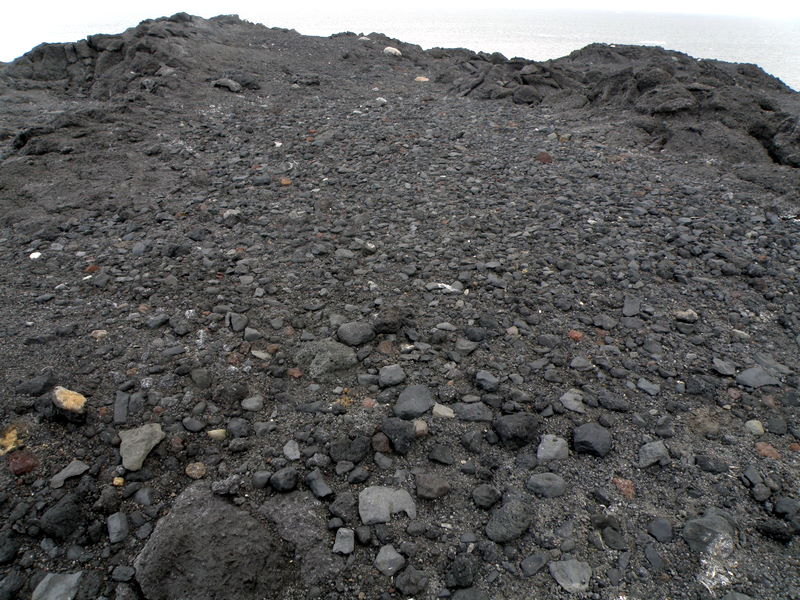 An abandoned site at Cape Royds (left- doesn't look like much, but pebbles are all the same size) and Steve surveying the badlands (right).

When we called in to Helo Ops, we found our pick-up was delayed (pretty typical for late in the day), so we decided to do a quick visit to Shackleton's hut. I noticed Ainley's Penguin Cam along the way- we might be in today's image since it records at noon every day. The Shackleton hut has undergone some significant work recently to stabilize and protect the structure from the elements, and it was during these efforts that the two cases of whiskey were found embedded in ice beneath the hut (see this BBC link for details). I noted that supply crates that had been strewn along the side of the hut were now neatly stacked and new siding had been applied along the southern side of the building (where they went in to get the whiskey). It's always an honor to step inside the hut and see so clearly how these bold men of only 100 years ago must have lived. We regretted only having a few minutes to spend there before returning to the helo pad. Another 45 minutes of waiting (McMurdo is all about hurry-up-and-wait) and our helo 31 Lima arrived. Except for the rather frantic behavior of the helo-tech, the flight back was quick and uneventful, and we luckily made it in time for dinner (critical since a miscommunication sent us out without field lunches). Now we are packing gear and getting ready for our flight tomorrow out to Cape Bird for five days. We have permission to stay in the Kiwi hut (5-star accommodations for Ross Island), so we will be very comfortable. I'll update again when we get back, or if we get delayed.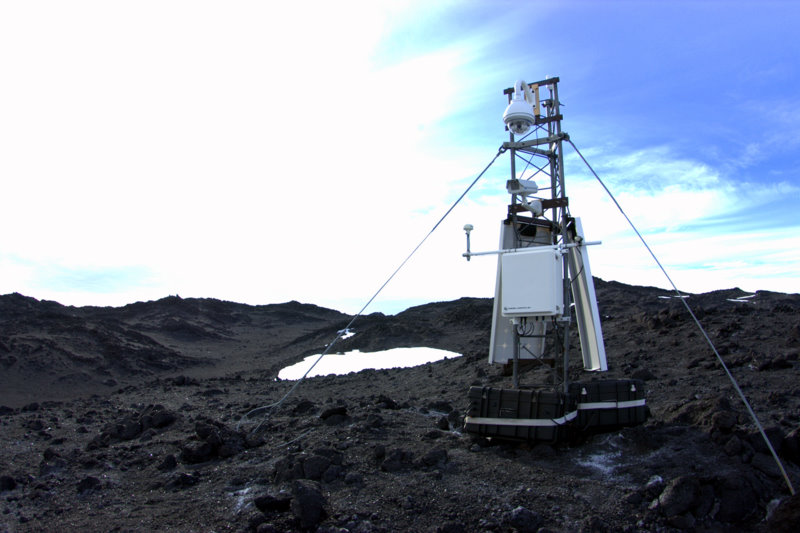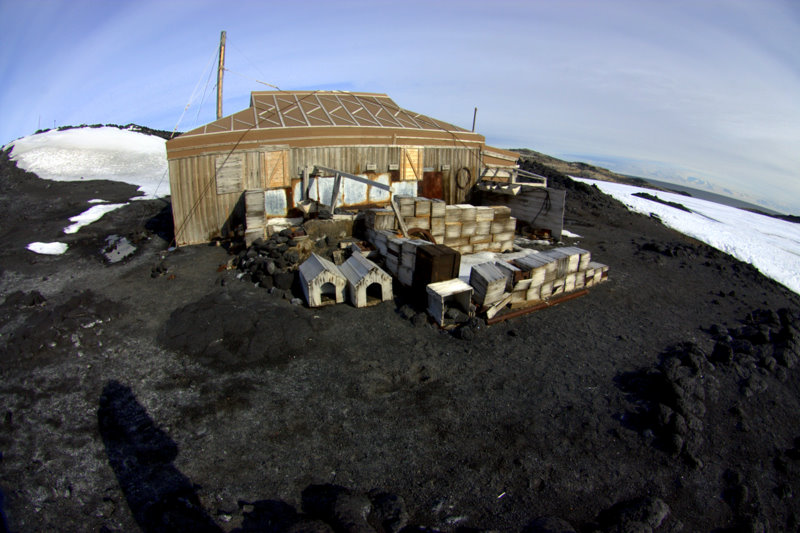 David Ainley's Penguin Cam (left) and the stables and supplies on the north side of Shackleton's hut, Cape Royds (right).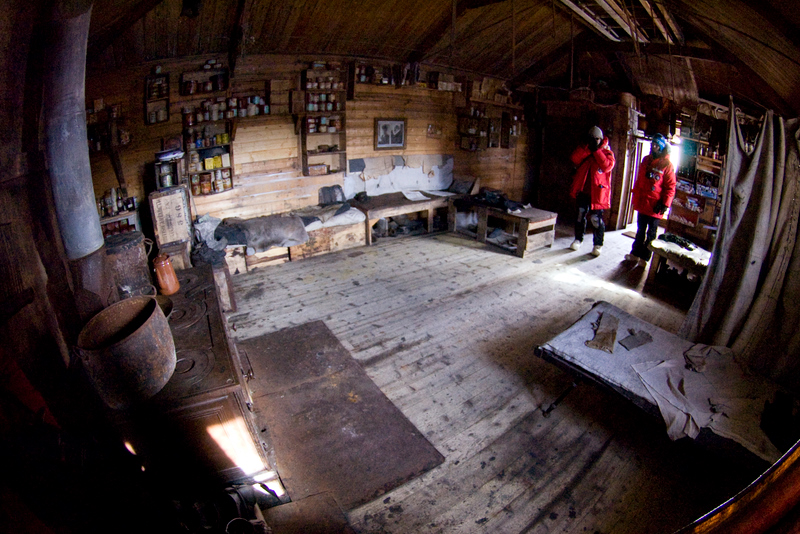 Supply crates from the 1907 Antarctic Expedition (where Shackleton's team made it to within 97 miles of the Pole) outside the hut (left) and a view inside the hut (right).
Cheers! Larry